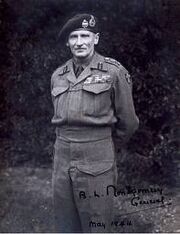 Bernard Montgomery: the British general collectively known as the 'Spartan General' during World War 1! 
Section heading
Edit
Bernard Montgomery (Novemver 17, 1887-March 24,1976) led the 17th Batallion of the Royal FusiliersIn 1923, he established the Irish Free State after the Irish Civil War. He also went to war versus Erwin Rommel, and fought in the Second Battle of El Alamein. After the war versus Rommel and his Afrika Korps, he went on and died in 1976.
Section heading
Edit
Write the second section of your page here.