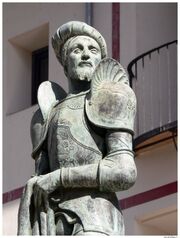 Cesare Borgia: the military leader associated with the infamous Borgia family, who was the first ever to resign a cardinalsy!  
Section heading
Edit
Cesare Borgia (1475/76-March 12,1507) conquered all kinds of territory until his people betrayed him, fearing his wrath. When he got out, he wanted to make a truce with his betrayers, but captured and imprisoned him. When he escaped Castle of La Mota, he joined King John III of Navarre. He died fighting in Spain in 1507.
Section heading
Edit
Write the second section of your page here.