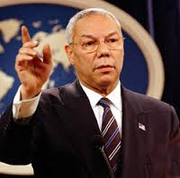 Colin Powell: the 4-star general who served as Commander of the U.S. Army Forces Command, as well as the Chairman of the Joint Chiefs of Staff during the Persian Gulf War!
Section heading
Edit
Colin Powell (born April 5,1937) retired from the United States Amry as a 4-star general. He was hurt in the Vietnam War when he stepped on a punji stake, but returned as a major to survive a helicopter crash, saving 3 others in the process. After his military sevice, he got into politics. 
Section heading
Edit
Write the second section of your page here.