Fritigern: the Thervingian Gothic general who defeated the Romans at the Battle of Adrianople, leading to the beginning of the end of the Roman Empire!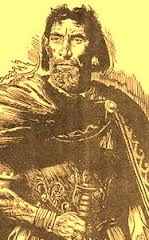 Section heading
Edit
Fritigern(?-380 AD) wanted to live in Rome with his Goths because of the takeover of their lands by other barbarian tribes, including the Huns. The Romans tried to run them off after realizing there were more than originally thought. The Romans, under Emporer Valens, tried to eradicate the barbarian leaders, killing all but a few, including Fritigern. Fritigern settled, but the Romans wanted them gone. Thinking the numbers were too small, the Romans felt they could get rid of them. Fritigern sent a Catholic priest to the Romans to make peace, then, out of nowhere, the Goths started the Battle of Adrianople. Greed got the Romans eradicated, but the Romans and the other barbarian tribes fought for over 2 decades until finally the barbarians took over, stgarting the beginning of the Roman Empire by annihilating the Eastern Roman Empire.
Section heading
Edit
Write the second section of your page here.