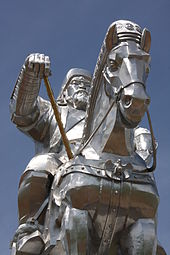 Genghis Khan: the legendary Mongol ruler who united the Mongol tribes and annihilated all who opposed them.
Section heading
Edit
Ghenghis Khan(1162-1227) is widely considered to be the greatest military general eer known because of his ability to use military strategies of armies he destroyed. He wreaked havok from as far east as China/Japan to as far west as eastern Europe. Warriors betray their own warlords to join the ferocious Temujin(Genghis Khan's real name), but they broke Temujin's main rule: betrayal. He was also a serious sex fiend. Women and land were his spoils of victory. Genghis Khan even executed a "blood brother"(Jamukha) by snapping his spine on a versionof the breaking wheel. Genghis Khan died the way he lived: fighting. As he lay dying, his final wish was to eliminate a rival group, which in turn the Mongols did. After his death, his empire was split amongst family, but none of them could keep it together. Genghis Khan was also known as "the Punishment of God".
Section heading
Edit
Write the second section of your page here.