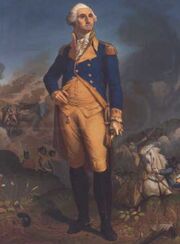 George Washington: the original Founding Father of the United States of America who won our freedom in  1776!
Section heading
Edit
George Washington (February 22,1732-December 14,1799) led the Revolution to win America its freedom. He teamed up with the French to defeat the British to achieve that mission. in 1783 a treaty was singed sealing the deal, allowing Washington to reign as the 1st President of the then Colinial United States of America.
Section heading
Edit
Write the second section of your page here.