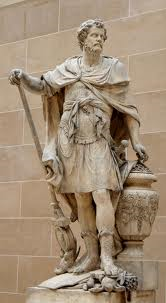 Hannibal Barca: the Carthaginian general who terrorized Rome, defeating the Romans at the Battle of Cannae, then committed suicide after his defeat to Scipio at the Battle  of Zama.
Section heading
Edit
Hannibal Barca (247-183/182 BC) led Carthage throughout his in numerous to oust the Romans, but didn't. He led a massive army of elephants and men across the snow drenched Alps to destroy the Romans at the battle of Cannae, but the Romans came back and beat the Carthaginians at the Battle of Zama. instead of surrendering to the Romans, Hannibal committed suicide. His double envelopment strategy that won the Battle of Cannae is studied to this day in  military schools all over the world.
Section heading
Edit
Write the second section of your page here.