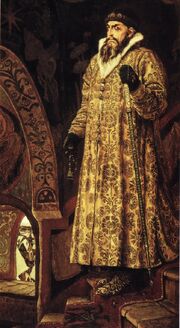 Ivan the Terrible: the Terror of russia who was later ceowned the 1st Tsar of Russia, who mounted death squads who drank mercury to cure his back, driving him more insane!
Section heading
Edit
Ivan the Terrible (1530-1584) was crowned the first Tsar of Russia after his father Vasily III died when he was 3. 5 years later, his mother was poisoned by the boyars. When Ivan was 13, he ordered the execution of Andrei Schwitzky. Schwitzky was thrown to hunting dogs and savaged to death. Ivan had 300 prisoners, known as the Oprichniki.They assisted Ivan in his torture/execution chambers. Ivan suffered from a spinal condition that fused his spine together, so he drank mercury to help with the excessive back pain, which made him more insane. Ivan unintentionally stabbed his son/heir to the head with a spear. The son died several days later. Ivan was Christened as a monk, and paid money for prayers to be sent to the families of those he executed. He died in 1584, allegedly by poisoning while playing a game of chess.
Section heading
Edit
Write the second section of your page here.