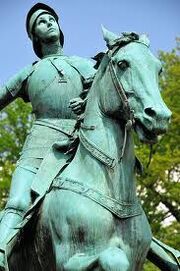 Joan of Arc: the French peasant girl who heard the calling of God to lead the French to defeat the English at the Siege of Orleans, ending the Hundred Yeasr War!
Section heading
Edit
Saint Joan of Arc (1412-May 30,1431) was a French maiden who led the charge to end the English roughshod run through France at the final stage of their assault, Orleans. Joan portrayed herself as a man so she could convince the Dolfair that she prophesized by God to lead this siege. Joan was then betrayed and executed by burning at hte stake in France at the age of 19. 25 years after her death, she was declared innocent of heresy and made a martyr. Her Siege of Orleans signified the end of the Hundred Years War.
Section heading
Edit
Write the second section of your page here.