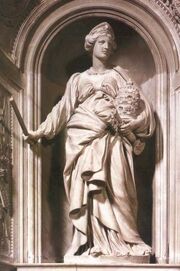 Matild of Tuscany: the (the Great Countess) Italian noblewoman who defended the Pope during the conflict between Pope Gregory and King Henry IV! 
Section heading
Edit
Matilda of Tuscany (1046-July 24,1115) was a Joan of Arc type woman who was the head guardswoman of Pope Gregory VII. She controlled all passages leading to Appenines, so Henry IV had to go through Ravenna to invade. Some of Henry IV's allies defeated her and her forces at the Battle of Volta Mantovana. Matilda died from gout in 1115, leaving her properties to the Pope, but the Romans never acknowledged it.
Section heading
Edit
Write the second section of your page here.