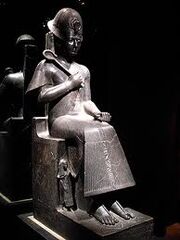 Pharoah Ramesses II: the greatest known Pharoah ever, who fought to a draw with the Hitties in 1274 BC at the Battle of Kadesh!
Section heading
Edit
Ramesses II (1303-1213 BC) was the famed Pharoah who fought Muwatallis II and the Hittites at the b\Battle of Kadesh! Kadesh was a major trade route that the Egyptians and the Hitties fought over for centuries. Before the Battle of Kadesh, 2 Bedouin scouts were captured by the Egyptians. They were beaten and forced to exposed where the Hittites were. Realizing that the Hittites were closer than they thought, Ramesses II couldn't get alla of his army there in time, so with that, neither side could decisively win, so they called for a treaty, but both claimed victory to their respective sides.
Section heading
Edit
Write the second section of your page here.