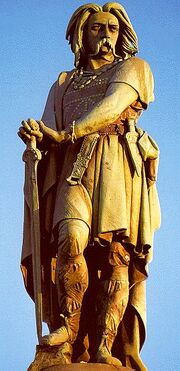 Vercingetorix: the Gallic chieftain who attempted but failed to stop the conquering of Julius Caesar and the Romans at the battle of Alesia!
Section heading
Edit
Vercingetorix (82-46 BC) led the Gauls to defeating the Roamsn at the Battle of Gergovia, in which 46 centurions and legionaries died, and Julius Caesar and 6,000 fled. But later on, at the Battle of Alesia, Vercingetorix and his Gauls were defeated, Vercingetorix was publicly chained and paraded through the streets of Rome, and garroted to death, right in front of Caesar,s face,  
Section heading
Edit
Write the second section of your page here.