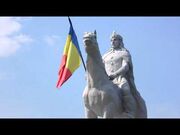 Vlad the Impaler: the Wallachian Prince/warlord who terrorized all who crossed through his method of execution that made him a legend:impalement, as well as his given namesake: DRACULA!
Section heading
Edit
Vlad the Impaler (1431-1476) was the real vampire DRACULA! He reigned 3 different times and 6 years. When he took over the throne from the Sultan Mehmed II, he fooled the Ottoman Turks and took Wallachia ( modern Romania) as his own country. He impaled all the boyars after working them to death, they fell off a cliff over 1,000 feet down onto stakes waiting for them. Later, Vlad saw Wallachia as a war state, so he impaled all who he saw as weak. Men,women,children,elderly,psychotic,physically unfit,etc. were all impaled. The SAultan wanted revenge, but before he could set off, Vlad and his army burned and poisoned everything in site on both sides of the Danube River. When the Sultan sent his skirmishers to eradicate Vlad, Vlad caught them and executed all of them and some of his own remianing civilians he saw as commodities, known as the Forest of the Impaled. This all scared Mehmed II and the main army away. During retreat, Vlad was imprisoned for 12 years by John Hunyadi's son, the King of Hungary. They united for the common cause, so Vlad was released, all to be decapitated outside of a merky barn by the Sultan's hired assasin. Vlad's head was soaked in honey and sent to Mehmed II as proof that Vlad was indeed dead at 45 years old. By the time of Vlad's death, he impaled over 100,000 people.
Section heading
Edit
Write the second section of your page here.