William Wallace: the Scottish highlander who led the fight for Scottilsh freedom from the English and inspired the movie Braveheart!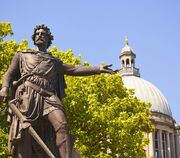 Section heading
Edit
William Wallace(?-1305) was the leading Scottish rebel who led the charge versus the English. Wallace's wife was killed by the English, so he seeked not only freedom, but revenge, so they took on the English head on. Wallace was eventually captured by the English, and as a result, was hung, drawn, and quartered for war crimes versus the English. After his death, Scotland finally won their freedom. Wallace's body was spread throughout Scotland before they won their independence.
Section heading
Edit
Write the second section of your page here.